Tonya Harding Signed Photo
Tonya Harding Signed Photo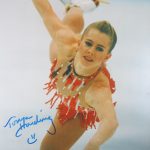 Starting Bid: $10.00

Going for $10.00 Winning: Je*04*ff
Ending On: July 1, 2022 10:00 pm
Stop auto-refreshing Bids?
This 8"x10" color photo comes signed by the American former figure skater, retired boxer and 1991 World Championship Silver Medalist, Tonya Harding.
Letter Of Authenticity from Memorabilia Center.
The following fee will be added to this auction: 25%
Je*04*ff bid $10.00 on June 14, 2022 6:05 am
Enter your email below to get notifications of new bids placed on the above item.
Shipping Details
Shipping: $5.00
From: Charlotte, NC
To: Worldwide
Payment Details
Winner will receive PayPal payment link via email.