Ted Williams Cut Signature
Ted Williams Cut Signature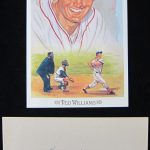 Stop auto-refreshing Bids?
This 3"x5" (approx.) cut signature display an autograph by Boston Red Sox legend and national Baseball Hall Of Fame member, Ted Williams. The item comes with a 1989 Ted Williams Perez-Steele Celebration postcard.
Letter Of Authenticity from Joe DiMaggio Estate.
The following fee will be added to this auction: 25%
Jo*10*ni bid $40.00 on May 25, 2022 8:38 am
Enter your email below to get notifications of new bids placed on the above item.
Shipping Details
Shipping: $5.00
From: Charlotte, NC
To: Worldwide
Payment Details
Winner will receive PayPal payment link via email.