Ted Marchibroda Signed Photo
Ted Marchibroda Signed Photo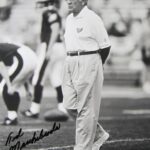 Stop auto-refreshing Bids?
This 8"x10" black and white photo comes signed by the 1975 NFL Coach of The Year, Indianapolis Colts Ring of Honor member, and former Baltimore Ravens Head Coach, Ted Marchibroda.
Letter Of Authenticity from Memorabilia Center.
The following fee will be added to this auction: 25%
Enter your email below to get notifications of new bids placed on the above item.
Shipping Details
Shipping: $5.00
From: Charlotte, NC
To: Worldwide
Payment Details
Winner will receive PayPal payment link via email.