Set Of 4 Signed H.O.F. cards
Set Of 4 Signed Marv Corning H.O.F. Cards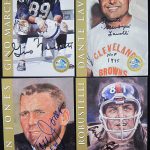 Stop auto-refreshing Bids?
Set of 4 signed 1998 Marv Corning Hall Of Fame cards. Including: Dante Lavelli, Gino Marchetti, Stan Jones, and Andy Robustelli.
Letter Of Authenticity from Memorabilia Center.
The following fee will be added to this auction: 25%
Fr*13*lo bid $30.00 on May 20, 2022 4:58 pm
Enter your email below to get notifications of new bids placed on the above item.
Shipping Details
Shipping: $5.00
From: Charlotte, NC
To: Wolrdwide
Payment Details
Winner will receive PayPal payment link via email.