Paul Newman And Tom Cruise Signed Photo
Paul Newman And Tom Cruise signed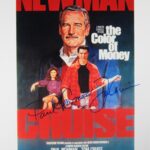 Starting Bid: $50.00

Going for $50.00 Winning: Je*04*ff
Ending On: July 1, 2022 10:00 pm
Stop auto-refreshing Bids?
This 8"x10" "the Color Of Money" movie poster print comes signed by two cast members, including: Paul Newman and Tom Cruise.
Letter Of Authenticity from Memorabilia Center.
The following fee will be added to this auction: 25%
Je*04*ff bid $50.00 on June 14, 2022 6:06 am
Enter your email below to get notifications of new bids placed on the above item.
Shipping Details
Shipping: $5.00
From: Charlotte, NC
To: Worldwide
Payment Details
Winner will receive PayPal payment link via email.