Don Mattingly Signed Baseball
Don Mattingly Signed Baseball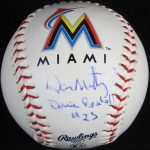 Starting Bid: $50.00

Going for $75.00 Winning: Pa*13*on
Ending On: July 1, 2022 10:00 pm
Stop auto-refreshing Bids?
This Official Major League Miami Marlins logo Rawlings baseball comes signed by the six-time All-Star member and current Miami Marlins manager, Don Mattingly. He added below his signature "Donie Baseball" and "#23" inscriptions.
Letter Of Authenticity from Memorabilia Center.
The following fee will be added to this auction: 25%
Pa*13*on bid $75.00 on June 30, 2022 12:06 pm
Enter your email below to get notifications of new bids placed on the above item.
Shipping Details
Shipping: $10.00
From: Charlotte, NC
To: Worldwide
Payment Details
Winner will receive PayPal payment link via email.